Every year the crystallographers from different countries meet at the annual Slovenian-Croatian (Croatian-Slovenian) crystallographic meeting to present their work and exchange the ideas in multiple areas of research involving crystallography. The 23rd consecutive meeting was organized jointly by the Faculty of Chemistry and Chemical Technology, University of Ljubljana and the Croatian Crystallographic Association under the auspices of University of Ljubljana and promoted by the Slovenian Chemical Society. The meeting was financially supported by Ministry of Higher Education, Science and Technology - Slovenian Research Agency, Republic of Slovenia.

The official language of the Meeting was English.
There was NO registration fee.
The SCCM 2014 was held in the Hotel Plesnik, Logar Valley, Slovenia, from Wednesday to Sunday, June 18th-22nd 2014.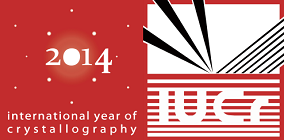 The meeting celebrated 2014, The International Year of Crystallography
UNESCO brochure - Crystallography matters! (English)
UNESCO brochure - Crystallography matters! (Slovenian translation)
Registration and abstact submission
There were five Plenary lectures of 1 hour (45+15 minutes). The remaining time was used for short oral presentations (10, 15 or 20 minutes) of the participants. The abstract of each presentation was submitted by presenting authors to SloCro23@fkkt.uni-lj.si not later than June 1st 2014 All abstracts were written in English on an A4 sheet (210 x 297 mm) inside the frame 150 x 230 mm. There was no poster section. It was strongly recommended that each registered participant submits only one abstract. However, the participant could also be a co-author of abstracts submitted by other registered participants. The registration was compulsory.